Update for Citizens Working Groups Ordinance Proces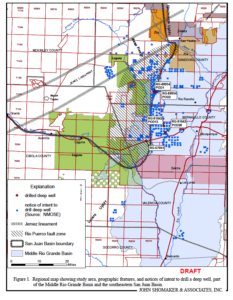 August 20, 2018 — Rio Rancho, NM — Here are the links to the multiple ordinances that have been submitted by various factions and committees. the CWG and the CWG Science Committee were the only groups authorized under the Sandoval County Commission. Currently, Commissioner Jay Block is submitting the "Stoddard ordinance" aka "Block Draft"  that was voted down in December of 2017, But now has been working with former OCD Director Mr. Catanach (revolving door lobbyist to government for more than 20 years) and the NMOGA to submit corporate interests ordinance to hijack the process and take away any protection on water, air,  health and safety.
The County Intends to divide the County allowing unbridled fracking in the Rio Rancho Estates, the Rio Puerco and the NW sectors of the County. Thrust Energy is gearing up to Frack and they can use the brine water that Sandoval County is partners with the KING family and AZ Foreign Corporations, who may have committed fraud in order to steal brine water resources from the citizens of NM. (More Later of this story)
Here are the Dates for the Planning-Zoning Meetings —

meetings are being fast-tracked or Fast-Fracked AGAIN!
August 28, 2018,  — Crucial  Meeting — See Blog Post
September 11, 2018,
September 25, 2018,
October 9, 2018,
October 23, 2018,
November 27, 2018,
December 11, 2018,
Here are the Dates for the Couty Commission meetings
http://www.sandovalcountynm.gov/wp-content/uploads/2018/06/2018-Sandoval-County-Commission-Meeting-Calendar-With-Address-1.pdf
Here is the link to Videos of the Meetings where the O&G was most likely on the agenda Minutes unavailable after 6/2/2018 
http://www.sandovalcountynm.gov/commission/sandoval-county-meeting-videos/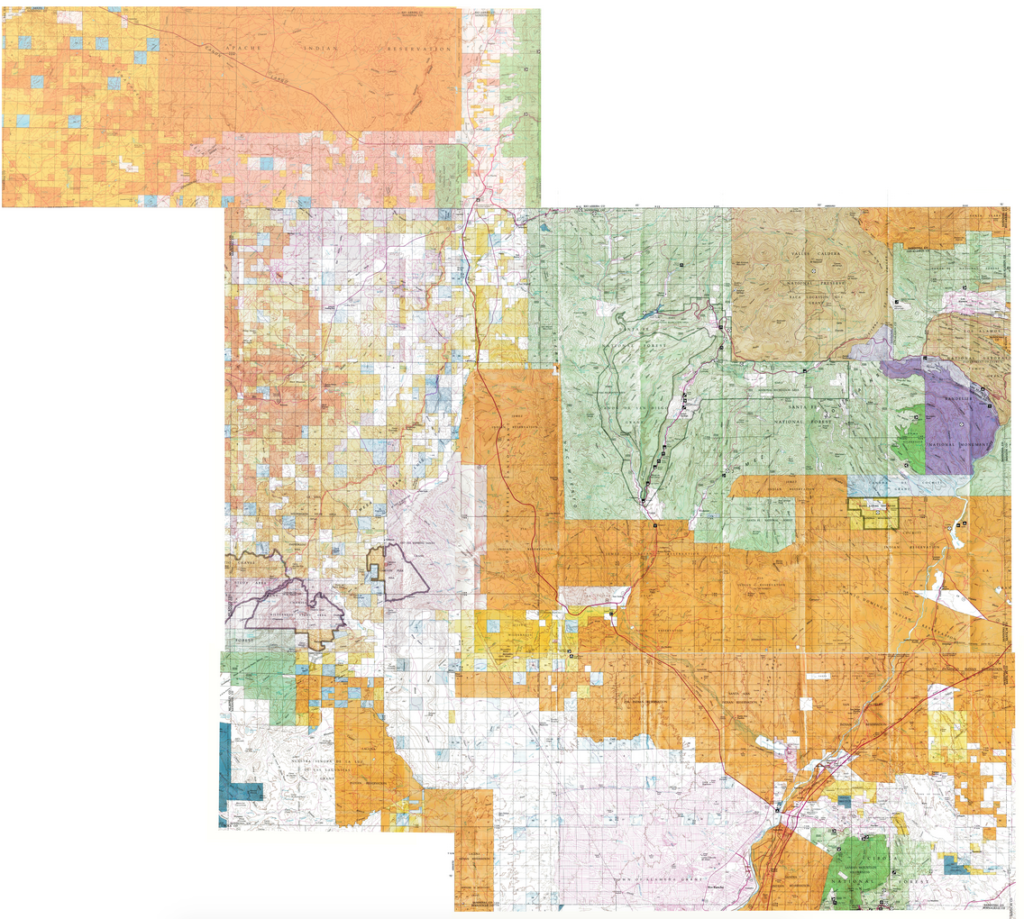 The white areas on the map indicate County Private Property and would be open to fracking estimated 267,000 acres with the streamline permitting process. This is a 11-minute composite image of Sandoval County at a lower  resolution. We are creating overlays for this image — a work in progress.
Become aware of what is happening in your neighborhood or in areas nearby.
Fracking-slated private lands in SE Sandoval County as per Sandoval County ordinance:
Rio Rancho Estates
Rio Rancho
Corrales
Bernalillo
Placitas
La Madera (HWY14 area)
Puercocito
Tejon
Budaghers
Pena Blanca
Algodonnes
Find out more, and let others know.
Become aware of opportunities to let your voice be heard.
What You Should Know
The South East Region of Sandoval County
a 100,000 acres under county jurisdiction of private property land holdings
Figure ! Rio Puerco Deep weel impacts to RG and RSJ
Communities impacted on private land holdings:
Rio Rancho Estates
Rio Rancho
Corrales
Bernalillo
Placitas
La Madera (HWY 14 area)
Puercocito
Tejon
Budaghers
Pena Blanca
Algodonnes
Potential drilling of 55,000 acres of BLM and State lands within Sandoval County and
Potential drillling of 32,000 acres of mineral leases on Zia Pueblo
An expected potential of 15,000 to 30,000 oil and gas wells will be developed– nearly the same number as in the Permian Basin which has been touted by Thrust Energy as a financial boon to the county coffers.

This is a Map provided to the County by the New Mexico Oil and Gas Association (NMO&GA) It does not include all the land holdings that we have documented. We are developing a GIS map since NM TECH ignore our IPRA (Inspection of Pubic Records Act)
Next Steps…
If you want to know more,
If you want to become involved,
Get in touch!