The proposed Hydrogen Hub in New Mexico is being promoted by the very same private extraction industry lobbyists that brought us an unsustainable boom and bust economy and the climate crisis. Why? because more than 99.8% of hydrogen is produced using enormous quantities of fracked gas, including both"blue" hydrogen, in which carbon emissions from production processes are sequestered using carbon capture, and "grey" hydrogen, which results in more emissions than actual hydrogen produced. Grey hydrogenemissions are 38% greater than directly burning natural gas for energy, and blue hydrogen is not muchbetter, resulting in 22% more emissions
For background of the Hydrogen Hub (There is no Clean H2 (hydrogen)
RFF scholars examine the profiles of applicants for the Regional "Clean" Hydrogen Hubs program that have been encouraged to submit full proposals. https://resources.org/common-resources/hydrogen-hubs-get-to-know-the-encouraged-applicants/…

Resources Dot Org
---
The hydrogen hub proposal, funded through public private partnerships and fueled by methane GAS, will cause:
DANGEROUS EXPLOSIONS THAT HARM WORKERS AND CONSUMERS
Hydrogen is highly flammable; production and distribution will lead to cost overruns, failed projects and safety risks.
As the smallest molecule, 14 times lighter than air and 57 times lighter than gasoline vapor, it escapes containmenteasily and those same properties prevent adding odorants so it's difficult to detect leaks. Deadly explosions are afrequent result.
Hydrogen is highly reactive. It embrittles pipelines and holding tanks, making it difficult and dangerous to contain,transport and use without specialized technology and materials. The presence of hydrogen in pipelines can increasethe risk of flashback (flames moving upstream into the supply system) from combustion devices, including customer appliances, causing explosions and potential injury or death.
INCREASED METHANE EMISSIONS, DELAYED INVESTMENT IN SOLAR AND WIND, AND ACCELERATING CLIMATE DESTRUCTION
Hydrogen production from methane gas is not "clean". Fossil fueled dirty hydrogen increases climate warming emissions.
Oil and gas companies produce 99.8% of the United States' hydrogen supply from methane gas. Globally, lessthan 1% of hydrogen is produced through electrolysis of water, and less than 0.02% is green (i.e., powered byrenewable electricity) . Hydrogen Hub projects being proposed in New Mexico are primarily fueled by methanegas. When the entire life cycle of fossil- fueled hydrogen is calculated, grey hydrogen emissions are 38% greaterthan directly burning natural gas for energy, and blue hydrogen is not much better, resulting in 22% moreemissions. Green hydrogen production from renewable energy requires 9kg of fresh water for every 1kg ofhydrogen and is not feasible for production in our arid New Mexico climate.
Blue hydrogen depends on Carbon Capture and Storage, a half-baked technology that has resulted in strandedassets worldwide.
MILLIONS OF DOLLARS IN LOSSES AND STRANDED ASSETS FUNDED BY NEW MEXICAN TAXPAYERS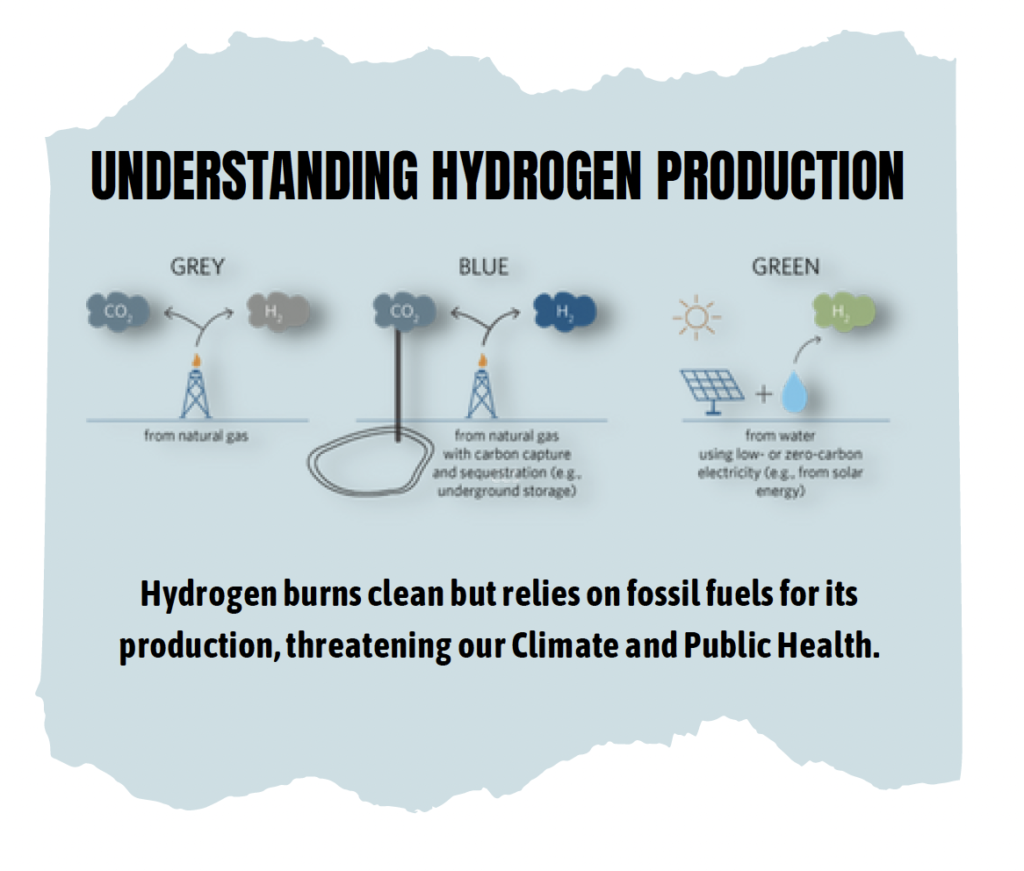 Grey and Blue Hydrogen will soon be obsolete and will result in stranded assets and the loss of millions of taxpayer dollars.
Rethink Energy predicts that by 2026 green hydrogen will undercut the cost of grey hydrogen supplies, reachingjust $1.54/kg by 2030. Fossil fueled hydrogen infrastructure built today will become obsolete within just a few years,resulting in millions of dollars in stranded assets and opportunity costs.
Hydrogen-based electricity generation is more costly than solar & wind energy, resources that NM possesses in abundance.

NEW MEXICO HAS A CLEAN ENERGY ALTERNATIVE WITH ENORMOUS ECONOMIC POTENTIAL