Update– March 23, 2023 We are not going away. We have been exploring the options of moving forward, gathering data, and are in consultation with experts. Once we are able to come forward to the community, we will hold a community meeting. We suggest that if you want more information and to be on our email list please sign on. — Elaine Cimino. Director Common Ground Rising
2019 –UPDATE WE ARE NOW MAKING A FINAL REQUEST TO MONITOR WATER AND AIR AND START A VOLUNTEER HEALTH TESING BASELINE INTHE COMMUNITY AND CONDUCT in a full investigation of disposals of TENORM radioactive waste and materials in the City of Rio Rancho with the goal of remediation and regulatory compliance and enforcement.
Our Call to Action
WE Petition NMED FOR A PUBLIC HEARING AND WERE DENIED AN EIB Public hearing on TENORM Radioactive Waste/Radioactive Material Disposal.
Dear Residents and Activists,
As described below, in March 2018, a private corporation directed the transport and disposal of 288 tons, in 48 separate truckloads, of radioactive waste, in the form of Technologically Enhanced Naturally Occurring Radioactive Material (TENORM) into the Rio Rancho Waste Management landfill. The landfill is not licensed to accept dangerous TENORM within schools, homes and businesses located with a single one-mile radius. The TENORM was reported to have been stockpiled on ground surface and subject to mobilization via strong winds as well as soil infiltration to the landfill liner, risking groundwater contamination with any liner breach. Also, in August 2019, the same corporation directed the illicit discharge of at least 5,000 gallons of contaminated briny water containing high levels of radionuclides and arsenic into the Rio Rancho sewer treatment facility infrastructure. Both the TENORM and the contaminated briny water include radionuclide concentrations far above Maximum Contaminant Levels. The New Mexico Environment Department (NMED) is aware of both dangerous disposals but has repeatedly neglected to address these hazards to public health and safety. Additionally, NMED's inaction may further embolden the corporation to conduct similar illicit actions. Therefore, we, the impacted citizens, are turning to the Environmental Improvement Board to request an investigative hearing and subsequent corrective and mitigative responses.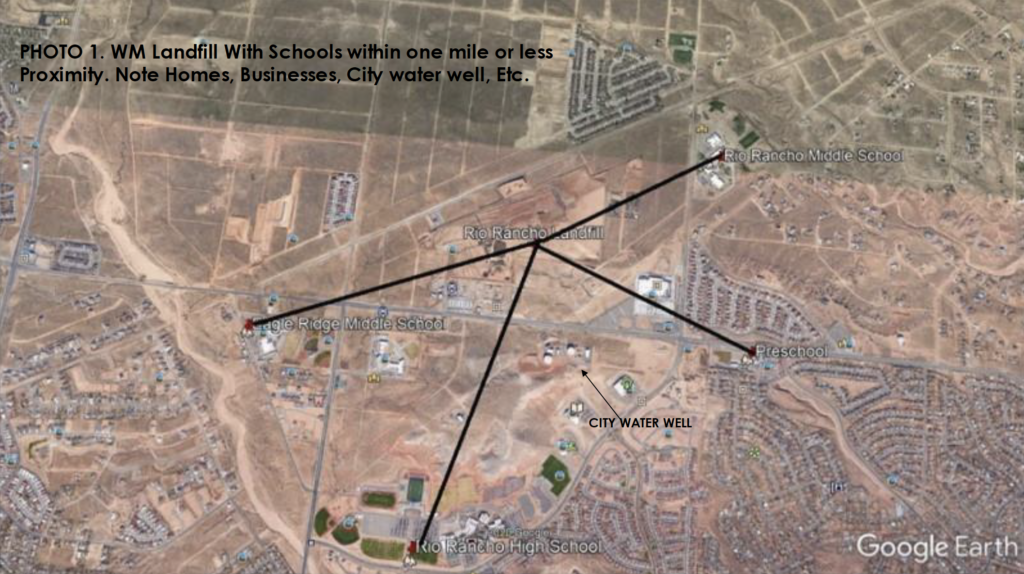 The petition is directed to the Environmental Improvement Board (EIB), that they should hold a public hearing resulting in a full investigation of radioactive dumping in Rio Rancho.
Sign the Petition to TAKE ACTION that the Environmental Improvement Board should hold a public hearing which would result in a full investigation into the March 2018 radioactive waste disposal in the Rio Rancho Waste Management landfill and the August 2019 radioactive brine water disposal into the Rio Rancho sewer treatment facility.
WE need the New Mexico Environment Department ( NMED) to act to protect our homes, schools, businesses. We need the NMED to protect our water, air and soils.
For more specifics on the the background and time line and issues that we intend to bring to the Environmental Improvement Board. Please read the petition and then support the citizens groups request to hold a public hearing by signing it.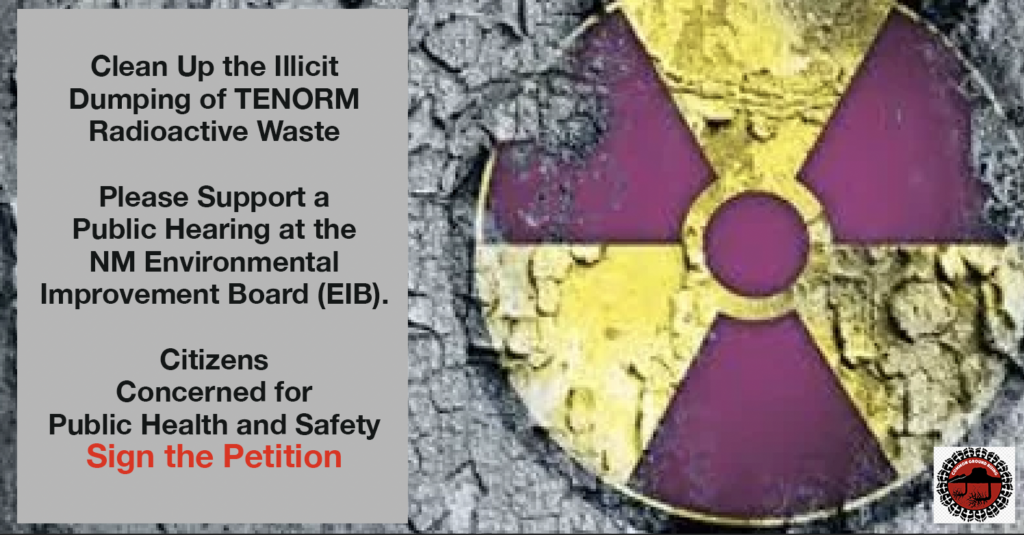 FOR additional viewing . we. have two interviews on that appeared on "That Saturday Show."
Jim Harvey of the Center for peace and Justice Interviewed retired Regulator Eddie Paulsgrove You can view the these interviews they start around 38:oo minutes into the Show. It is well worth your time to watch and listen to it them. https://youtu.be/s_WM9tvE9es That Saturday Show part 1 on TENORM ISSUE
Part One Eddie Pauls grove Interview at 38:00 min
Part 2 Jim Harvey interviews Eddie Paulsgrove Interview starts at 37:19 for the Paulsgrove interview.