NM Environment Department is about to Road Dump Of Oil & Gas Wastewater on the public ?

Find out what you can do to stop this!
September 30, 6 pm Loma Colorado Library Rio Rancho NM
By Siri Lawson, Farmington Township, Warren County
The issue of road spreading of oil and gas wastewater (brine) began for me in 2011.

In April of 2011, Gov. Tom Corbett asked the unconventional (Marcellus Shale) producers to stop disposing of their oil and gas wastewater at public wastewater treatment plants. In May of 2011, hundreds of residual waste tankers (vac trucks) began using the dirt roads in my region to dispose of wastewater that formerly went to wastewater plants and into waterways. My road was among those dirt roads used for road spreading. In 2011 alone it received over 30 loads of brine. It soon became apparent that both conventional and unconventional oil and gas drillers had confiscated the public dirt roads and were using them as cheap and convenient disposal sites for industry wastewater. There is no way for me or anyone to tell where the brine being dumped on my road came from.A study released in May found 5,725,353 barrels [240,464,826 gallons] of wastewater from conventional oil and gas wells were applied to roads between 1991 and 2017. 97.9 percent of that waste — 235,415,065 gallons– remained in Pennsylvania and was spread on roads. This despite abundant warnings about the hazards of indiscriminate disposal and the extraordinarily toxic nature of the wastewater were ignored. Dirt roads were regarded as "revenue units," looked upon as assets to the bottom line of a balance sheet.Road spreading raised so many red flags that a statewide "dis-information" campaign was started. Unsuspecting dirt road residents were told by everyone they had reason to trust township officials, the oil and gas industry, and DEP that the repetitive brine road spreading was good for them. We were told brine would "beneficially" suppress dust on our roads as well as "beneficially" stabilize those roads. Road spreading soon became its' own giant, profitable industry. It became unstoppable by science, regulation, common sense or graphic evidence it did not perform as advertised.We began to scrutinize the practice. We found there were DEP fact sheets governing how much, where, and when brine could be spread. We were led to believe roadspreading was regulated by permit. We found regulations required self-reporting by those producing wastewater, self-reporting by those receiving wastewater, the townships allowing it to be dumped on dirt roads, and self-reporting by those spreading wastewater. We found at best, compliance was indifferent.While denying responsibility for any pollution that could result from Department guidance, oversight was left to the DEP. From 2011 to 2018, all systems failed. The oil and gas industry was allowed to become their own cops. The roads and ditches ran freely with brine.By 2016, residents in my township of Farmington had resorted to petitions begging for "no more salt brine". By 2017, tensions and the sense of futility had escalated to the point where Fair Shake Legal services of Pittsburgh initiated a legal action in front of the Environmental Hearing Board to get road spreading stopped.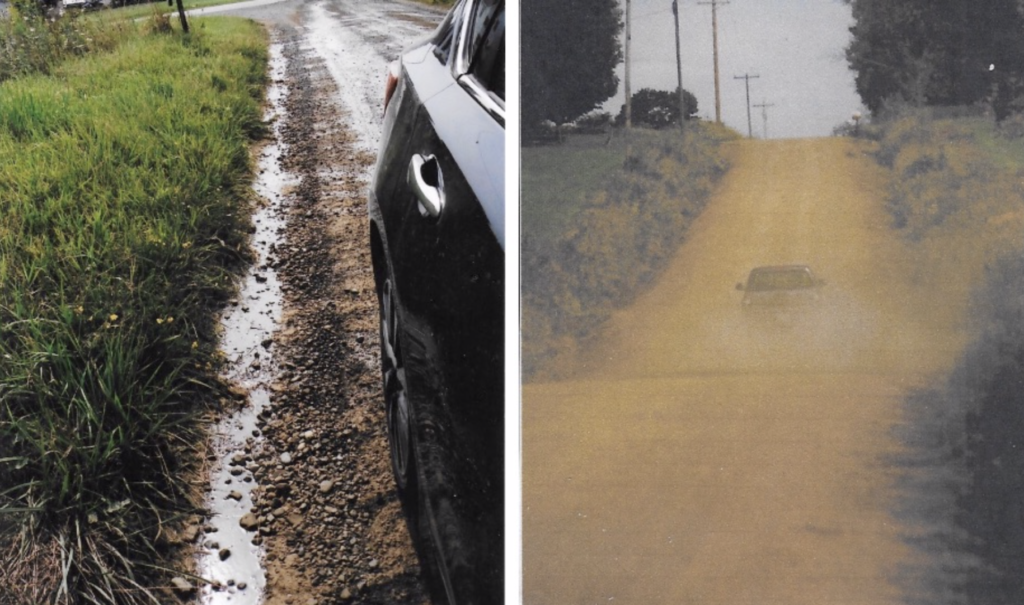 In early 2018, the DEP issued a statewide moratorium on road spreading of oil and gas wastewater. Several months later, the Board dismissed the action.Had the case (EHB (2017-051-B) gone to trial, we would have gladly exploded the myths surrounding road spreading of oil and gas wastewater. Using long-standing, undisputed science to show brine can not, and does not suppress dust on dirt roads, we would have shown oil and gas wastewater will enhance road dust production. A single brining can rival Superfund clean-up action levels (Dr. Bryce Payne, 2017). The same science would have permitted us to show brine cannot and does not stabilize dirt roads.An extensive literature review was undertaken. No historic studies were found to show oil and gas wastewater will suppress dust on dirt roads. Neither have studies been done to show exposure to oil and gas wastewater is safe for humans or the environment. Older manuals from the Penn State Dirt and Gravel Road Institute list wellhead brine with other types of dust suppressants. Brine is always mentioned in conjunction with the presence of heavy metals. Its use is discouraged.We were helped to prepare for litigation by Paul Rubin of Hydroquest. For years he has warned that brine road run-off damages freshwater. He took the chemical analysis submitted by the residual waste haulers in my township and proved what was listed as brine from conventional wells was far worse and exceeded the known parameters of brine from unconventional wells.Paul Rubin exposed the depth and formation myths used by industry professionals to delineate conventional and unconventional wells. He showed elected township officials as well as DEP staff designated for road spreading oversight knew little about the areas they were responsible for overseeing. He pointed out paperwork submitted to the DEP was often falsified and usually fatally incomplete. In my Farmington Township, he showed almost all brine road spreading occurred within 150 ft of a waterway or water passage.Shortly after my lawsuit was dismissed, Penn State published a study that took a harder look at issues connected with brine road spreading. Their results showed brine readily migrates off roads it is spread on. When oil and gas wastewater enters aquatic environments such as streams, it is fatally toxic to organisms. Penn State found brines are significantly radioactive and asked what happens to that radioactivity when it is dispersed into the environment. The study even said we were dealing with lead. At that point, it was clear the DEP had reasons other than legal to declare a statewide moratorium on brine road spreading.Pennsylvania is close to completing the second year of the DEP moratorium on oil and gas wastewater spreading. Dirt road residents are still dealing with excessive dust but the assumption is, it is far less toxic. Ironically, residents are being out-complained by the oil and gas industry. Producers and residual waste haulers– no longer able to access dirt roads for cheap, convenient wastewater disposal– have turned to politicians in hopes of legislatively returning to their old practices. And, Pennsylvania legislators heard oil and gas industry complaints. In 2019, they introduced scores of flagrantly anti-regulation, anti-environmental, for-profit pro-oil and gas bills. They heard conventional producers claim they were smaller, cleaner and would go broke if forced to obey environmental regulations (2014 co-sponsorship memo, Sen. Hutchinson). Two of the 2019 bills– Senate Bill 790 and House Bill 1635— would not only establish very lenient guidelines for conventional producers, but they would put brine back on the roads. This fall, the General Assembly is on schedule to place the financial comfort zone of the oil and gas industry squarely over the health, safety and welfare of Pennsylvania rural dirt road residents and the vast, fragile ecosystems and environments that surround them.On September 11, 2019, Melissa Troutman working through Earthworks and FracTracker released a scathing 24 page report titled, "Pennsylvania Oil and Gas Waste Report" along with an interactive map of oil and gas waste sites in the state. On page 7, the Troutman report deals with radium. She calls it, "The Toxin That Never Goes Away." "In its 2016 radioactivity study, the DEP wrote "[T]here is a potential for radiological environmental impacts from spills of produced water from unconventional natural gas well sites and from spills that could occur from the transportation and delivery of this fluid." Further, "DEP found radium-226 concentrations in oil and gas wastewater samples ranging from 40.5-26,600 picocuries per liter.' (Troutman). Only a semantics game delineates an accidental spill from a deliberate dumping.Released also on September 11, 2019 is a press release from the Ohio Buckeye Environmental Network. It is titled, "ODNR's Own Testing Confirms Worst Fears-Oil and Gas Brine Contains Cancer-causing Radioactivity." ODNR tested 151 samples of brine, finding radium 226 and 228 in all samples."ODNR has long maintained that brine spreading is safe because the waste used is produced by conventional wells and not unconventional wells. The testing proves this is untrue." 148 out of 151 samples ranged from levels above Ohio's 120 pci/L Environmental Discharge Limit to 9,602 pCi's.In just 2 short years, real-time, boots-on-the-ground-knowledge about oil and gas waste, in particular brine and road spreading has exploded. There are no positives. Historically, brining has been sold to the public as a benefit, falsely promoted as a dust suppressant, fictitiously promoted as a road stabilizer. The oil and gas industry has not found a safe way to dispose of 100's of millions of barrels of wastewater. Exposing dirt road residents and the environment to unregulated amounts of industry"secret" chemicals, significantly elevated VOC's like benzene and profound radiation by legislative fiat, and then telling people it is for their own benefit is monstrous. I am asking our Pennsylvania Senators and Representatives. why are you hell-bent on hurting us?
ReactionThe Marcellus Shale Coalition, which represents unconventional (Shale gas) drilling companies, had this response to the Op-Ed–"Siri Lawson's recent Op-Ed "Why is the General Assembly About to Hurt Us by Authorizing Road Dumping of Oil and Gas Wastewater" conflates the handling of unconventional and conventional wastewater in a manner that misleads your readers."Ms. Lawson infers that unconventional operators began to spread wastewater on roadways for dust suppression in May 2011, one month after the industry voluntarily agreed to no longer treat and discharge unconventional wastewater at public wastewater treatment plants. "This simply is not true. Operators looked for other avenues to handle their wastewater; principally through recycling efforts for future natural gas well site use, as well as some disposal at deep-well injection sites. "Data indicates that over 90 percent of shale gas wastewater is recycled. However, operators did not – and have not – discharged unconventional wastewater on roadways. Conventional (non-shale) operators had used their wastewater for dust suppression for years, long before 2011."Since 1989, Pennsylvania regulations have prohibited the discharge of brine on roadways or into waterways of the Commonwealth, unless approved on a case-by-case basis by the Department of Environmental Protection (DEP). DEP authorized this practice through the review and approval of a Beneficial Re-Use permit; however, as a practical matter such permits were only issued to conventional operators. "This prohibition on using unconventional brine for roadway dust suppression was included in Pennsylvania's new shale gas regulations adopted in October 2016. It is worth recognizing that this was but a mere formality capturing an existing and long-standing prohibition already in place."[NOTE: DEP disallowed the use of wastewater in road spreading for dust suppression, anti-icing, prewetting or road stabilization from unconventional (Shale gas) wells in 2016 changes to its regulations.]
[NOTE: The Senate Environmental Resources and Energy Committee is due to consider Senate Bill 790 on September 24.](Photos: L- Brine in a roadside ditch which ran into a stream about 1,000 feet from where this photo was taken, R- Old Slate Road was heavily brined the day before (Sept. 26, 2017), by Siri Lawson.)(Comments on this article can be sent to: [email protected].) NewsClip:
The Allegheny Voice: Ohio DNR Documents Show Radioactive Elements In Oil & Gas Brine
Related Articles:Penn State Study Recommends Only Using Nontoxic Products Or Highly Treated Drilling Wastewater To Remove Radium, Oil, Metals Before Road Spreading
Senate Environmental Committee Meets Sept. 24 To Move Bill To Regulate Conventional Oil & Gas Wells, Make Road Dumping Of Drilling Wastewater Legal
Op-Ed: The Story Behind Stopping Conventional Oil & Gas Brine Spreading On Dirt RoadsOp-Ed: Will Our Dirt Roads Again Be Used As Dumping Sites For Oil & Gas Well WastewaterEarthworks' New Report, Interactive Map Tracks Disposal Of 380 Million Barrels Of PA Oil & Gas Drilling Wastewater, Including Road DumpingNew Study Tracks Liquid, Solid Waste From Conventional, Unconventional Oil & Gas Development In PA From Generation To DisposalConventional Oil & Gas Industry Has A Major Goal In 2019– To Restore Program To Spread Waste Water From Wells On RoadsPenn State: Potential Health Impacts Of Oil and Gas Wastewater On RoadsOil & Gas Well Brines For Dust Control On Unpaved Roads – Part I- IneffectivenessPenn State Study: Using Oil & Gas Well Brine As Dust Suppressant Less Than Ideal
David E. HessT his Blog is a companion to www.PaEnvironmentDigest.com, the weekly online newsletter and a product of PA Environment News LLC. I can be contacted by sending email to: [email protected]. I served as Secretary of the Pennsylvania Department of Environmental Protection from 2001 to 2003, Executive Deputy at DEP from 1995 to 2001, as staff to the PA Senate Environmental Committee and various positions in the former Department of Environmental Resources, working on environmental issues for over 40 years.