By Elaine Cimino
Recently I picked up Erin Brockovich book, 'Superman is not Coming.' There are many of us across the United States that 'fight the good fight' for clean drinking water. What Ms. Brockovich outlines in her book is a some of the push back from local, state and federal agencies that keeps the status quo of allowing drinking water, groundwater and surface water to be polluted,
New Mexico is no different. For instance, Mr. Schapp's "Highland Dairy" farm in Clovis, New Mexico, where the US Air Force polluted the farm and impacted the city water supplies with PFAS, PFOA, and PFOS, which will impact the lives of residents, workers and livelihoods for generations.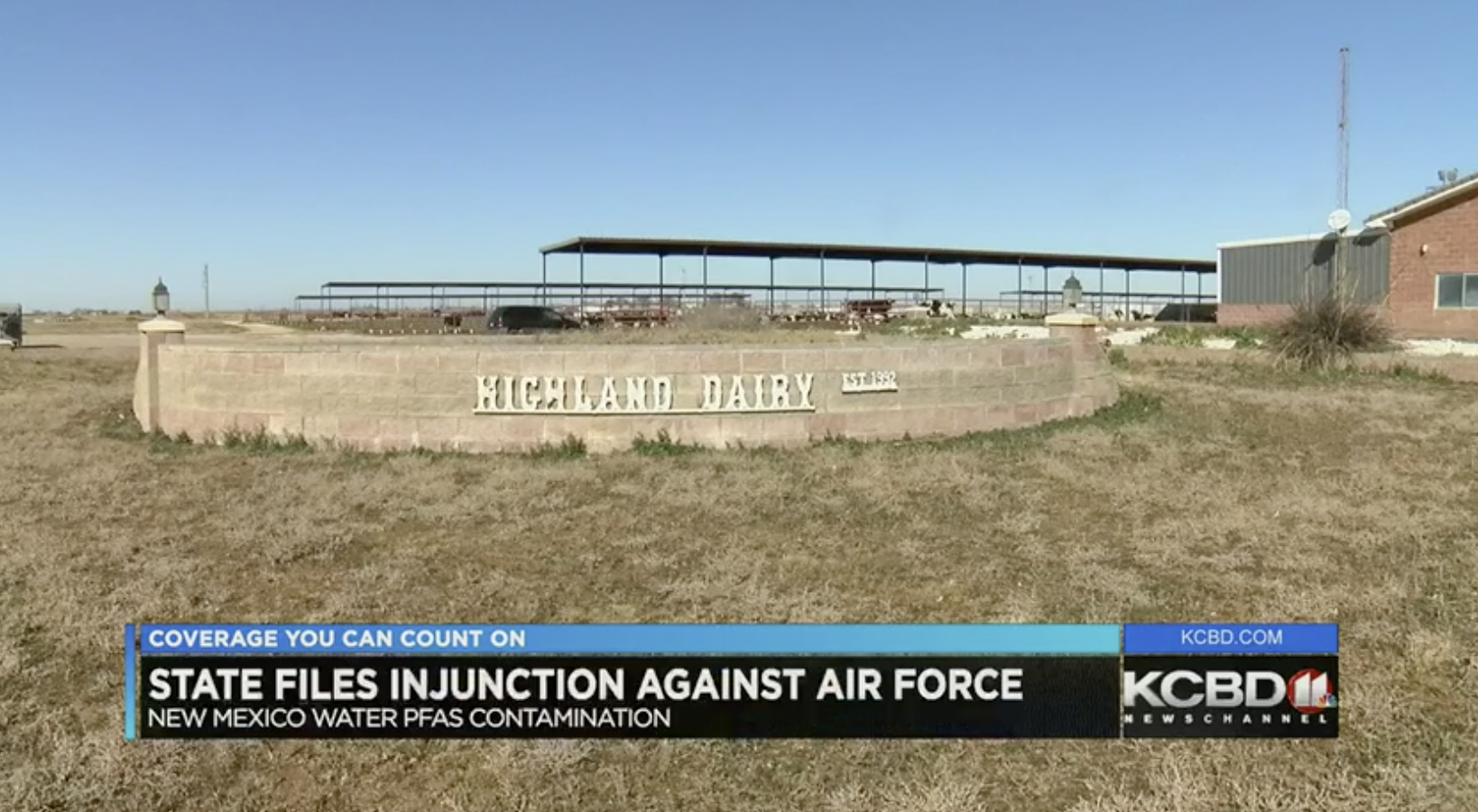 "There are many contaminants that the EPA and the State of New Mexico are not setting limits on include PFOA and PFOS which are contaminating millions of Americans Tap Water. Many of these unregulated chemicals ate linked to cancer and other major health issues. As if drinking water wasn't a big enough issue, we are seeing greater strains on our water supplies Infrastructure and economy. If you are waiting for someone to come save you and clean up your water, I am here to tell you: nobody is coming to save you. We cannot survive without access to clean water or no water at all. And yet we are locking access to most precious resource. Without water, it is literally a game over for all of us," writes Brockovich.
The time has come to save ourselves. It is a sad day when our government becomes the enemy of the people and fails to protect public health and safety, their actions speak louder than their empty words.
We are amid a major water crisis that is beyond anything you can imagine. Already over 2000,000-acre feet in water debt to Texas in the Albuquerque Basin. We cannot afford to continue to pollute the perched aquifers Systems. Pollution problems persist and toxins are everywhere, stemming from the hazardous Waste of Industry and agriculture.
In Rio Rancho, NM, we discovered +through public information requests a radiation waste dump in the City landfill that is located near municipal water supplies, schools, homes and businesses. Brockovich examines the chemicals that are wreaking havoc that there are forty thousand chemicals on the market. Today with only few hundred regulations. We've had industrial chemicals and byproducts discard into the ground and into our water supply for years. The companies who dump them know it. They have always known it the government knows it, too. These issues affect everyone—rich or poor, Black or white, Republican or a Democrat, Large and small communities think they are safe and they are not.
"Many of these substances cause irreversible health problems when ingested and people in communities throughout the country are dealing with the repercussions. What about the EPA and our government? What about the Corporate Remediation? Department Aren't their experts handling it? The short answer is NO."
But like a blood test for disease, you can only find what you're looking for. If you don't order a specific test in one of these chemicals. You won't know that it is there. You cannot treat the water or stop the dust suppression with this contaminated water, unless you test for it and you know what is in it. The City and State know they allowed the illegal dump and are now working to cover their tracks.
Not only Brockovich recognizes that these issues start with tiny seeds of deception that add up over the months and years to become major problems. During the pandemic the spotlight on our systems shows that our resources are exhausted. Corruption has been rampant. Officials are trying to cover their tracks. People are completely missing the mark or not putting all the pieces together when it comes to the severity of this crisis.
We have people calling and discussing, asking what to do. But we have very little political will to do the right things because it invites challenging the economic growth that allows waste streams to be dumped on to the taxpayer in the elaborate corporate welfare system and pay for play politics.
For far too long communities have been targeted and disenfranchised because we have not risen up to challenge politicians that can legislate change in regulations that have streamlined pollution in tour communities across New Mexico. Small groups have managed to resist developers. But now with the climate crisis, drought and less fresh water the development game is over.
Brockovich reminds us that no one person must—or can—fix it alone Not one senator, one community member, CEO, mom or dad, It's up to all us and we've got to work together.
The first action that you can take is:
To become a part of the national reporting campaign or self-reporting registry www.communityhealthbook.com this is a crowd sourced map is an Erin Brockovich's legacy project and it allows individuals and community groups to report and review health issues by geographic area and by health topics. This is a research project intended to connect dots between clusters of illness and environmental hazards in specific communities and regions of the country.
The Second Action that you can take is:
Calling, texting and email your city council members until you
are heard.
We have power together to fight for better enforcement of regulations, to push for new legislation and to storm our city halls and state legislatures until our voices are heard and the water is safe to drink and the air is safe to breathe for everyone.
Please contact:
NMED Cabinet Secretary James Kenney at the Harold L. Runnels Building // 1190 St. Francis Drive, Suite N4050 // Santa Fe, New Mexico 87505 // tel (800) 219-6157, (505) 827-2855 To Reach Mr> Kenney Email Roose, Rebecca, NMENV [email protected]
Mayor Greggory D. Hull Mayor [email protected] 3200 Civic Center Circle NE Rio Rancho, NM 87144 505-891-5001 (office) 505-264-5652 (mobile) Fx: 505-891-7274
Acting City Manager Peter Wells 3200 Civic Center Circle NE Rio Rancho, NM 87144 Ph: 505-891-5002 [email protected]
Rio Rancho City Councilors
Council Members
District 2 – Jeremy Lenentine (Email Jeremy Lenentine / Biography) [email protected]
District 3 – Bob Tyler (Email Bob Tyler / Biography) [email protected]
District 4 – Paul Wymer (Email Paul Wymer / Biography) [email protected]
District 5 – Jennifer Flor (Email Jennifer Flor / Biography) [email protected]
District 6 – Daniel Stoddard (Email Daniel Stoddard / Biography) [email protected]
Citations
Brokovich, Erin. Superman Is Not Coming. Pantheon Books, 2020.
Contributors to Wikimedia projects. "As Dreams Are Made On – Wikipedia." Wikimedia Foundation, Inc., 20 May 2020, https://en.wikipedia.org/wiki?curid=20593588.
Erin Brockovich. "The US Is in a Water Crisis Far Worse than Most People Imagine | Erin Brockovich." The Guardian, 25 Aug. 2020, https://www.theguardian.com/commentisfree/2020/aug/24/the-us-is-in-a-water-crisis-far-worse-than-most-people-imagine.