Press Release
Community Meeting on Rio West Brine, toxic NORM, Roads and Produced Water
Rio Rancho, NM – Common Ground Rising is holding a community meeting for members of the public impacted by road projects of Paseo del Vulcan and Atrisco Vista Blvd, an update on the toxic brine wells in the Rio Puerco, what that means for produced water use outside of the industry.
All have impacts to water, air and health while none of the appropriate studies have been made. Targeted development areas include the West Mesa, Rio Rancho, Rio Rancho Estates, Northwest Albuquerque and in Bernalillo and Sandoval counties.
Eddie Paulsgrove, retired geologist, regulator and stakeholder resident, will present on the brine wells and the toxic NORM radioactive contamination that leaked from 2013-2017. According to the NMED Corrective Action Report (2017) the amount of contamination that was 'scoured down the Arroyo One was 11acre feet.' This is equivalent to 5.3 Olympic swimming pools that was scoured during storm events onto State Lands through Laguna Pueblo lands. where it emptied into the Rio Puerco. NMED allowed toxic brine to be used on Brine well construction.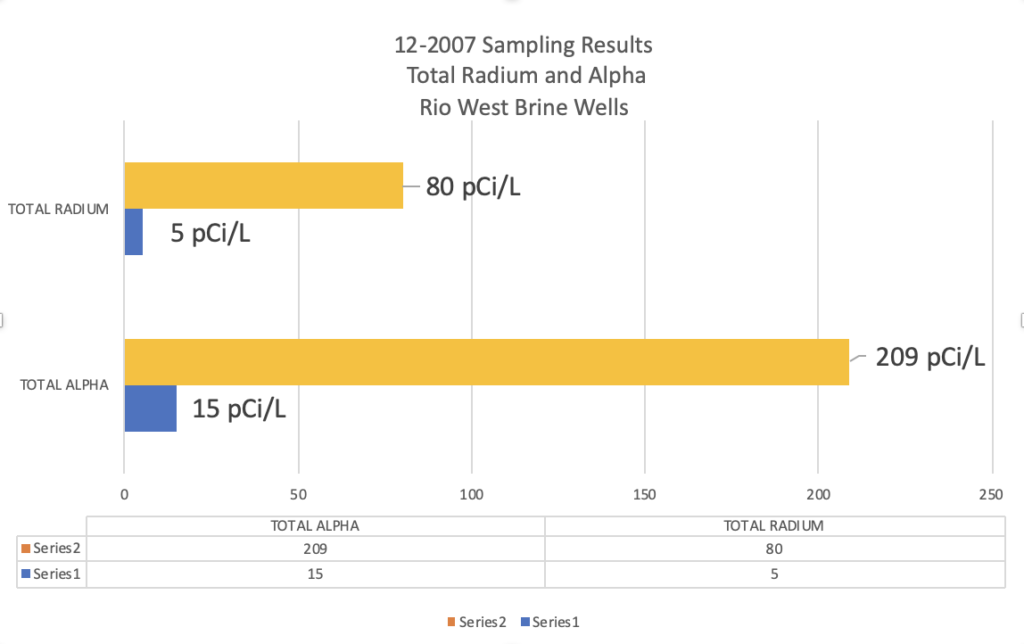 The Community meeting is intended educate the public and to promote comments on radioactive waters used in NM without regulation. On September 12th, NMED announced that NMED, OSE and EMNRD will be holding statewide public meetings to collect public comments regarding the allowance of toxic wastewater to be used outside the oil and gas industry for 'beneficial use' that includes road spreading and on crops. Thrust Energy operators indicated in a Sandoval County Commission meeting in July of 2018 that they wanted to 'recycle' fracking produced water for the City of Rio Rancho return flow credit and aquifer recharge project. However, we see this as a dangerous precedence as you can see in the graph attached. This is the radium amounts in the brine without fracking fluids.
A Pennsylvania State study said, "THE SPREADING OF BRINE FROM OIL AND GAS DRILLING CAN THREATEN ENVIRONMENTAL AND PUBLIC HEALTH BY LEACHING INTO THE SURFACE GROUND WATER, ACCUMULATING IN ROAD AND ADJACENTS SOILS, MODIFYING SOIL CHEMISTRY AND MIGRATING IN AIR AND DUST, IN ADDITION A RECENT STUDY INDICATED HIGH LEVEL OF RADIUM RESULTING FROM SPREADING."
According to a Duke University study released in January 2018, even though "conventional oil and gas wastewater is treated to reduce its radium content," this has not prevented "high levels of radioactive build-up in the stream sediments" over time.The researchers concluded: "While restricting the disposal of fracking fluids to the environment was important, it's not enough…Conventional oil and gas wastewaters also contain radioactivity, and their disposal to the environment must be stopped, too."
This educational meeting will generate calls to action to stop the onslaught of speculative development interests using taxes and bonds with no accountability with taxpayers. County governments, MRCOG, and the State of NM NMED, OSE and EMNRD are pushing development interests that risks harm to public health and safety.
Where: Loma Colorado Library Auditorium
Time: 6 pm Date:September 30, 2019
Contact Information:
Elaine Cimino, Director CommonGroundRising.org
Stakeholder resident
[email protected] 505 604-9772
[1]Permafix Environmental Services for PADEP. Technologically Enhanced Naturally Occurring Radioactive Materials (TENORM) Study Report. 2015.
[1]EPA, Regulatory Determination for Oil and Gas and Geothermal Exploration, Development, and Production Wastes. 53 FR 25447, 1988.
[1]"Sources of Radium Accumulation in Stream Sediments Near Disposal Sites in Pennsylvania: Implications for Disposal of Conventional Oil and Gas Wastewater," N. Lauer, N. Warner, A. Vengosh, Environmental Science and Technology, Jan 4, 2018, DOI: 10.1021/acs.est.7b04952
[1]"Environmental and Human Health Impacts of Spreading Oil and Gas Wastewater on Roads,"T. L. Tasker, W. D. Burgos, et al., Environmental Science & Technology, May 30, 2018, 52 (12), 7081-7091 DOI: 10.1021/acs.est.8b00716
[1]"The Pennsylvania Department of Environmental Protection's Beneficial Reuse Program for…Road Spreading Halted Pending Revised Processes," Lara B. Fowler, Penn State Law/Penn State Institutes of Energy and the Environment, June 5, 2018.
[1]Bryce Payne, Jr., PhD. Letter to Siri Lawson. May 7, 2017. https://www.dropbox.com/s/y1h0ocy4xd5ocos/SIRI%20LAWSON%20-%20Bryce%20Payne%20ltr.%20to%20Siri%205-7-17.PDF?dl=0
Graph Source: Data for Hall Analysis On contamination 12-2007 NMED IPRA request.
graph Source: NM SOS office spread sheet on Campaign contribution reports 2018