ON September 10th we released a report on what we contend is illegal dumping of radioactive TENORM salts into the Rio Rancho Landfill. The following is a presentation on the findings regarding the matter and the science and math that back up the concern. it is critical that we Stop aerial spraying and test Leachate and surrounding wells and air quality including schools, homes and business.
https://drive.google.com/file/d/1OdCEKqbc8EIA6XlXL9_PGaohojFTdyyx/view?usp=sharing. Here is the link to the PDF
The New Mexico Environment Department has said '"We don't have any evidence at this time to show that there's an imminent threat to human health, but we're double-checking all of the regulatory requirements and making sure that our oversight is thorough," explained Stephanie Stringer, Resource Protection Division Director with the NMED.Stringer said the public shouldn't worry about the wind blowing around harmful fumes. "There's not a pathway to human exposure at this time," said Stringer.https://www.krqe.com/news/new-mexico/state-investigating-radioactive-material-dumped-at-rio-rancho-landfill/
This is the problem because the radioactive TENORM toxic salts is above the federal Standards and the NMED must stop any aerial spraying until we have independent third party test results.
We have been working to present the facts to the public and give context to the matter that our community is facing.
LET's Look at the Data versus Standards

BOTTOM LINE UP FRONT:
IN MARCH 2018, 288 TONS OF TECHNOLOGICALLY ENHANCED NATURALLY OCCURRING RADIOACTIVE MATERIAL (TENORM, OR NORM), ALSO IDENTIFIED AS "TOXIC SALT", WAS EXCAVATED FROM EVAPORATIVE PONDS AT THE BRINY WELLS SITE WEST OF RIO RANCHO & DISPOSED IN THE RIO RANCHO WASTE MANAGEMENT LANDFILL. THE TENORM WAS DERIVED FROM HIGHLY CONTAMINATED BRINY GROUNDWATER FROM DEEP WELLS WEST OF RIO RANCHO.
THE TENORM WAS IN THE FORM OF TOXIC SALT AND CONTAINED DANGEROUS LEVELS OF RADIUM 226 & 228, ARSENIC, AND OTHER RADIONUCLIDES. DATA INDICATES THE RADIUM AND ARSENIC CONCENTRATIONS EXCEED STATE AND FEDERAL MAXIMUM HEALTH AND SAFETY STANDARDS, WHICH CAN HAVE A NEGATIVE PUBLIC SAFETY IMPACT. IT IS CLEAR THAT THE TENORM SHOULD NOT HAVE BEEN DISPOSED IN THE LANDFILL.
THERE ARE 3 SCHOOLS, A PRE-SCHOOL, NUMEROUS HOMES AND BUSINESSES WITHIN A ONE-MILE RADIUS OF THE LANDFILL FACILITY (PHOTO 1). THE DISPOSAL LIKELY CREATED A POTENTIAL WIND-BORNE CONTAMINANT THREAT BY HAVING HIGHLY CONTAMINATED MATERIAL IN THE OPEN ENVIRONMENT.
•NMED HAS ARBITRARILY DECIDED TO EVALUATE THE DISPOSAL ACTION USING THE LOWEST REPORTED WATER QUALITY RESULTS FOR THE RADIUM AND ARSENIC CONTENT. THEY ALSO ELECTED TO ESTIMATE THE BRINY WATER VOLUME FROM DRAWINGS AND MAPS –THEIR RESULTS DO NOT VERIFY AS CORRECT. NMED'S APPROACH IS ARBITRARY, AND WILL INCORRECTLY, AND DANGEROUSLY, MINIMIZE THE ACTUAL CONTAMINATION. NMED SHOULD ALWAYS ERR ON THE SIDE OF PUBLIC HEALTH AND SAFETY.
•THE LANDFILL PUMPS AND SPRAYS THE FLUID COLLECTED AT THE LINERS (LEACHATE) BACK ONTO LANDFILL'S GROUND SURFACE EVERY 2 YEARS. RADIUM AND ARSENIC WOULD THEN POSSIBLY BE ABLE TO BECOME A WINDBORNE CONTAMINANT SOURCE. PUMP AND SPRAYING ACTIVITIES MUST NOT TAKE PLACE UNTIL EXTENSIVE RADIONUCLIDE LEACHATE TESTING IS CONDUCTED. ADDITIONALLY, LANDFILL SOIL AND MATERIAL SAMPLING AND TESTING MUST BE CONDUCTED TO ESTABLISH CONTAMINANT BASELINES AND GUIDE FUTURE REMEDIAL ACTIVITIES.
THE NEW MEXICO ENVIRONMENT DEPARTMENT (NMED) APPARENTLY HAS NOT IMPLEMENTED ENFORCEMENT ACTIONS AGAINST THE RESPONSIBLE PARTIES. NMED ALSO HAS NOT STATED WHETHER THE DISPOSAL WAS A VIOLATION OF STATE LAW, OR OF THE TERMS AND CONDITIONS OF THE LANDFILL'S STATE-ISSUED PERMIT. NMED DOES NOT APPEAR WILLING TO IMPLEMENT MEASURES TO DETER FUTURE SIMILAR ACTIONS. THE PUBLIC NEEDS ANSWERS.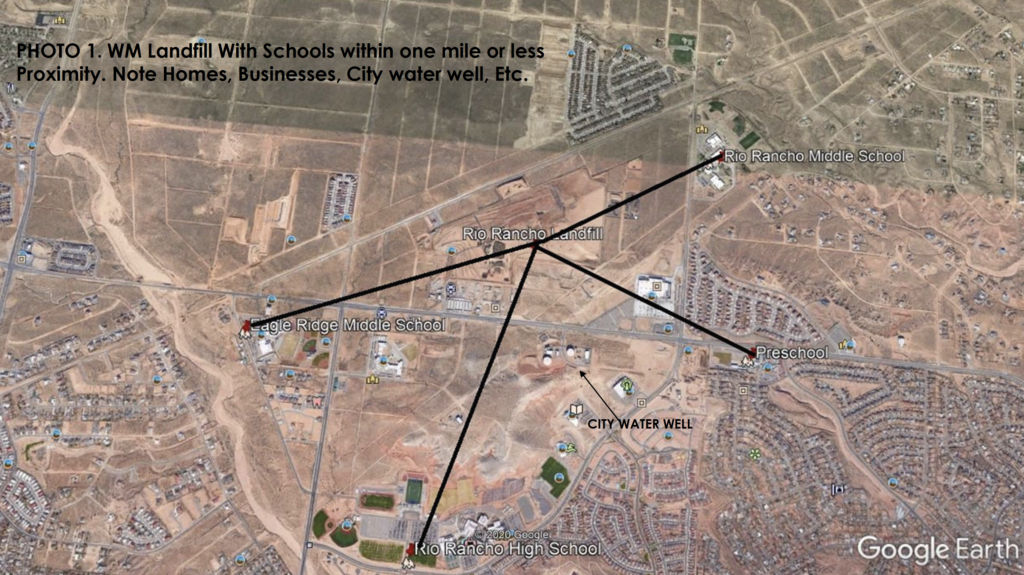 DETERMINING BRINY WATER QUANTITY
IN ORDER TO DETERMINE THE TENORM CONTAMINANT CONCENTRATIONS, WE MUST FIRST DISCOVER HOW MUCH BRINY WATER WAS REQUIRED TO FORM THE TOXIC SALT. LUCKILY, THERE ARE SIMPLE MATHEMATICAL METHODS TO DETERMINE THE BRINY WATER QUANTITY:
WHAT WE KNOW:
1. THE TOTAL WEIGHT OF THE TOXIC SALT -288 TONS288 TONS = 576,000 POUNDS = 261,269 KG = 261,269,000 GRAMS
2. THE TOTAL DISSOLVED SOLIDS (TDS) OF THE BRINY WATER FROM WHICH THE TOXIC SALT WAS DERIVED -12,000 MILLIGRAM PER LITER (mg/L)12,000 mg/L = 12 GRAMS PER LITER (g/L)
3. THERE ARE 453.592 GRAMS IN A POUND;

SIMPLE MATH:
WE NEED TO KNOW THE LITERS OF BRINY WATER IT TOOK TO FORM 288 TONS OF TOXIC SALT.
453.592 DIVIDED BY 12 = 37.8; THEREFORE THERE ARE 37.8 LITERS PER POUND. SINCE THERE ARE A TOTAL OF 576,000 POUNDS, AND 37.8 LITERS PER POUND, THEN 37.8 X 576,000 = 21,772,800 LITERS IN 288 TONS
SEE, SIMPLE MATH!! NOW THAT WE KNOW HOW MUCH BRINY WATER IT TOOK TO DERIVE 288 TONS OF TOXIC SALT, DISCOVERING THE CONTAMINANT CONCENTRATIONS IS SIMPLE!!
ACCORDING TO NMED, THE TENORM WAS DERIVED FROM BRINY WATER WITH A TDS OF APPX. 62,000 mg/L. WRONG!
DETERMINING ARSENIC CONCENTRATION
NOW THAT WE KNOW HOW MUCH BRINY WATER IT TOOK TO DERIVE 288 TONS OF THE TOXIC SALT, DETERMINING ARSENIC QUANTITY JUST NEEDS ACCURATE DATA. ARSENIC CONTAMINATION IN SOIL IS MEASURED IN MILLIGRAMS PER KILOGRAM (mg/kg). WE GET THAT QUANTITY BY MULTIPLYING THE ARSENIC TEST QUANTITY BY THE AMOUNT OF WATER AND DIVIDING BY THE KILOGRAMS OF TOXIC SALT.
WHAT WE KNOW:
LITERS OF WATER = 21,772,800
KILOGRAMS OF TOXIC SALT = 261,269

AS NOTED, CONTAMINANTS IN THE BRINY WATER FLUCTUATE, SO WE'LL DO 3 DIFFERENT CALCULATIONS:
1. 12/21/2007 -FROM HALL ENVIRONMENTAL ANALYTICAL LAB, ALBUQUERQUE:
ARSENIC = 0.634 mg/L 0.634 X 21,772,800 = 13,803,955 mg OF ARSENIC IN SALT WATER
13,934,592 mg DIVIDED BY 261,269 kg = 52.83 mg/kg
2. 12/23/08 -ENERGY LABS, CASPER, WY:
ARSENIC = 0.475 mg/L 0.475 X 21,772,800 = 10,342,080 mg OF ARSENIC
10,342,080 mg DIVIDED BY 261,269 kg = 39.584 mg/kg
3. 11/19/08 –ENERGY LABS, CASPER, WY:
ARSENIC = 0.318 mg/L 0.318 X 21,772,800 = 6,923,750 mg OF ARSENIC
6,923,750 mg DIVIDED BY 261,269 kg = 25.500 mg/kg
DETERMINING RADIUM (Ra) CONCENTRATIONS
RADIUM CONTAMINATION LEVELS IN WATER AND SOILS ARE MEASURED IN PICOCURIES (pCi). IN WATER, IT'S pCi/L; IN SOILS IT'S pCi/G. THE 2 TYPES OF RADIUM OF CONCERN HERE ARE Ra 226 & Ra 228.IT'S IMPORTANT TO REMEMBER THAT THE TOTAL RADIUM CONCENTRATIONS (226 + 228) ARE USED TO DETERMINE CONTAMINANT LEVELS.THE SAME METHODS ARE USED FOR RADIUM QUANTITY CALCULATIONS AS FOR ARSENIC:
AGAIN, THERE ARE LARGE FLUCTUATIONS IN TEST RESULTS. SINCE WE'RE LOOKING FOR POTENTIAL HAZARD TO THE PUBLIC, WE'LL USE THE HIGHER TEST RESULTS. STRANGELY, NMED USED THE LOWEST ANALYTICAL RESULTS ON RECORD.
SAME CONSTANTS: WATER = 21,772,800 LITERS;TOXIC SALT = 261,269 KG = 261,268,992 GRAMS
OURRESULTS:
12/21/2007 HALL ENVIRONMENTAL:
Ra 226 = 35.9 pCi/L; 35.9 X 21,772,800 = 781,643,520 pCi
Ra 228 = 49.1 pCi/L; 49.1 X 21,772,800 = 1,069,044,480 pCi
TOTAL RADIUM (226 + 228) = 1,850,688,000 pCi
TO GET RADIUM PER GRAM, 1,850,688,000 pCiDIVIDED BY 261,268,992 GRAMS
TOTAL TENORM Ra CONCENTRATION = 7.08 pCi/G;
FEDERAL MAXIMUM SOIL STANDARD IS 5 pCi/GIN EXCESS OF BACKGROUND LEVELS. SINCE RADIOACTIVE MATERIAL IS NOT AN ACCEPTED LANDFILL MATERIAL, BACKGROUND SOIL RADIUM CONCENTRATIONS ARE LIKELY MINIMAL.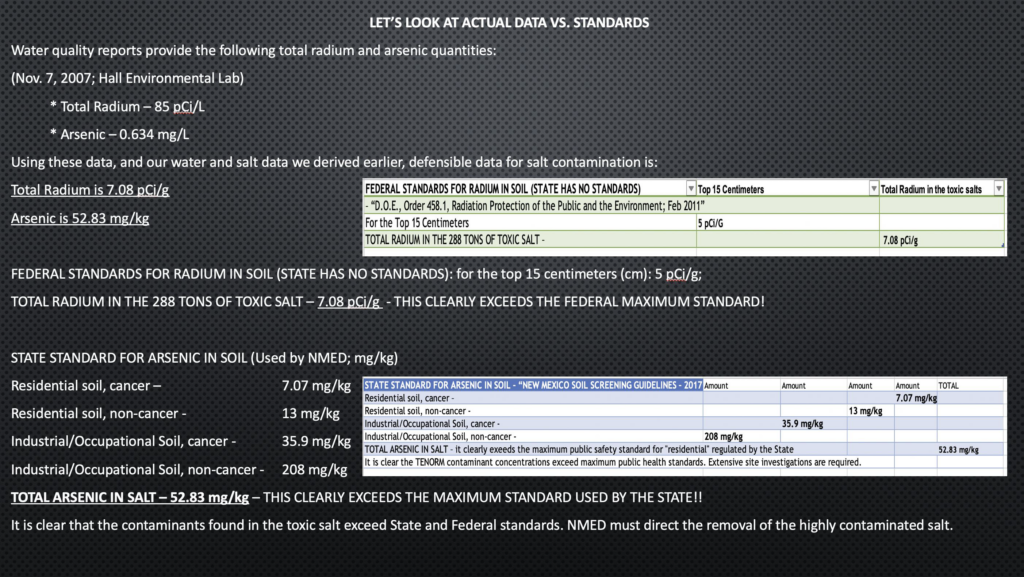 EXAMPLES OF ARBITRARY DECISIONS AND BIAS BY NMED
THE FIRST EXAMPLE IS THE MOST DISAPPOINTING BECAUSE IT SHOWS THAT NMED HAS AN AGENDA THAT ISN'T PUBLIC SAFETY. NMED HAS STATED THAT THE TOXIC SALT WAS DERIVED FROM JUST OVER 1.1 MILLIONS GALLONS OF THE BRINY WATER AND BASED THAT DETERMINATION ON HOW FULL THE EVAPORATION POND APPEARED BASED ON A SINGLE 2012 GOOGLE EARTH PHOTO, SELECTED FROM 7 PHOTOS TOTAL. NMED USED CONSTRUCTION "AS BUILT" DRAWINGS TO ESTIMATE THE VOLUME. ACCORDING TO NMED'S DETERMINATION, THE BRINY WATER WOULD HAVE A TDS OF APPX. 62,000 MG/L!!
•NMED'S CONTENTION ISDEMONSTRABLY FALSE THAT SAME SET OF PHOTOS SHOWS DISCHARGE HOSES LEADING TO THE POND OVER THE YEARS. SALT ACCUMULATION AND STANDING WATER CAN BE SEEN PRIOR TO, AND AFTER, THE 2012 SINGLE DISCHARGE CITED BY NMED (PHOTO 2 –BRINY WATER AND TOXIC SALT ACCUMULATION IN 2009).
•BUT THE MOST OBVIOUS EVIDENCE COMES FROM WHEN THERE WERE NO PHOTOS, AND NMED'S ARBITRARY SELECTION OF THE LOWEST RADIUM AND ARSENIC DATA FROM FOUR SEPARATE WATER QUALITY REPORTS. NMED CHOSE DATA FROM OCT. 6, 2008, A SAMPLING EVENT TAKEN DURING AN AQUIFER TEST DURING WHICH OVER 9 MILLION GALLONS OF BRINY WATER WAS DISCHARGED INTO THE POND!!A PIVOT IRRIGATION SYSTEM WAS USED PARTIALLY TO MAKE ROOM FOR THE CONTINUOUS 31-DAY DISCHARGE; HOWEVER, THE BRINY WATER IS HIGHLY CORROSIVE AND ONCE THE TEST WAS NEARING COMPLETION, IT APPEARS UNLIKELY THE PIVOT IRRIGATION WOULD HAVE BEEN USED TO PUMP ANY FURTHER BRINY WATER FROM THE POND. CLEARLY, 5-6 MILLION GALLONS ACCOUNTED FOR THE SALT.
•THE LOW CONTAMINANT SAMPLE VALUES USED BY NMED WERE OBTAINED AFTER THE FIRST WEEK OF WATER DISCHARGING. A SECOND SAMPLING EVENT OCCURRED ON OCT. 20, 2008, WHICH HAD A HIGHER DISCHARGE RATE AND GREATER CONCENTRATIONS OF RADIUM AND ARSENIC CONTAMINATION –WHY DIDN'T NMED USE THAT DATA?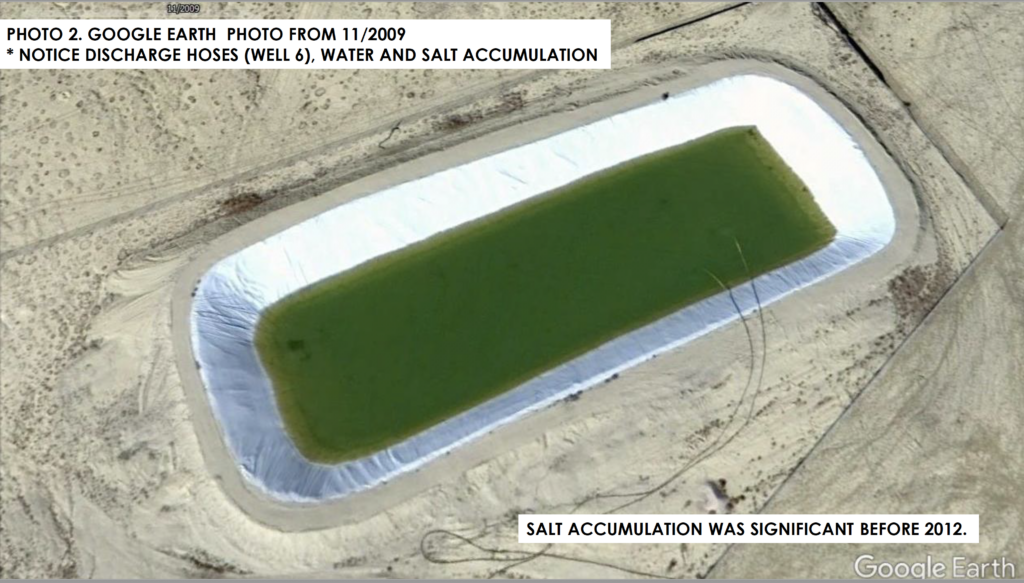 EXAMPLES OF ARBITRARY DECISIONS AND BIAS BY NMED (CONT.)
* NMED HAS ALLOWED FOR THE LOWEST ANALYTICAL DATA TO BE USED IN CONTAMINANT EVALUATIONS WITHOUT JUSTIFICATION. THE DATA IN OUR CALCULATIONS IS JUST AS VALID AS WHAT NMED USED.
-NMED SHOULD BE ERRING ON THE SIDE OF PUBLIC SAFETY AND USING THE DEC. 17, 2007, WATER QUALITY REPORT DATA TO ENSURE THE WORST POSSIBLE CONTAMINATION IS ACCOUNTED FOR –IN DEC. 2019, NMED USED THE DEC. 2007 DATA (85 pCi/L TOTAL RADIUM) FOR AN EXPOSURE EVALUATION (DR. PATRICK LONGMIRE, NMED; DEC. 20, 2019), SO A PRECEDENCE IS ESTABLISHED. THE FACT THAT NMED APPEARS TO BE MINIMIZING CONTAMINANT DATA SHOULD CONCERN ALL CITIZENS.
* NMED HAS NOT REQUIRED THE WASTE MANAGEMENT LANDFILL TO REQUIRE LEACHATE RADIONUCLIDE TESTING PRIOR TO PUMP AND SPRAY ACTIVITIES
IF THE LANDFILL SPRAYS THE LEACHATE ON THE GROUND SURFACE, AND THE LEACHATE CONTAINS HIGH LEVELS OF RADIUM & ARSENIC, THEN A WIND VECTOR HAZARD WOULD LIKELY BE INTRODUCED TO THE PUBLIC.
* NMED HAS NOT IDENTIFIED A RESPONSIBLE PARTY OR INITIATED ENFORCEMENT ACTIONS IN SPITE OF IDENTIFYING THE TENORM "GENERATOR".
SOMEONE MUST BE HELD ACCOUNTABLE FOR INTENTIONALLY CREATING A CONTAMINATION HAZARD.
CONCLUSIONS
•THE PUBLIC WILL HAVE TO STEP UP AND DEMAND THAT THE NMED PERFORM THEIR DUTIES IN SUCH A WAY AS TO ENSURE THE HEALTH, WELFARE, AND SAFETY OF THE PUBLIC. RIGHT NOW, THAT'S NOT HAPPENING –NMED IS USING ABITRARY DATA TO SUPPORT THEIR FALSE AND DANGEROUS CONTENTION.
•THE TOXIC SALT IS HIGHLY CONTAMINATED AND SHOULD NEVER HAVE BEEN DISPOSED AT THE LOCAL LANDFILL. IT WAS, AND REMAINS, A DANGER TO THE COMMUNITY. DATA CALCULATIONS SHOULD ALWAYS ERR ON THE SIDE OF PUBLIC HESALTH AND SAFETY.
•THE LANDFILL LEACHATE CAN NOT BE ALLOWED TO BE SPRAYED ONTO THE GROUND SURFACE WITHOUT EXTENSIVE RADIONUCLIDE AND ARSENIC TESTING. ADDITIONALLY, CONTINUOUS SOIL AND MATERIAL SAMPLING, AND MONITORING WELL CONTSTRUCTION, SHOULD BE CONDUCTED TO GUIDE MITIGATION EFFORTS AS REQUIRED.
•PUBLIC AWARENESS IS CRITICAL –RIO RANCHO AND SURROUNDING COMMUNITIES NEED TO BE MADE AWARE OF THE DANGERS THE DISPOSAL CREATED.
•NMED MUST IDENTIFY WHETHER THE DISPOSAL WAS IN VIOLATION OF STATE LAW, OR A VIOLATION OF THE LANDFILL'S STATE-ISSUED PERMIT
•SOMEONE NEEDS TO BE HELD ACCOUNTABLE –NMED KNOWS WHO THAT IS.
REFERENCES
1. R.T. Hicks Consulting; Corrective Action Report EXP-05 and EXP-06 Sites Section 11, T12N, R01W Sandoval County, New Mexico; Jan. 2019
2. Intera; Aquifer Test Report; Dec. 9, 2008
3. EPA Facts About Radium Information Paper; https://semspub.epa.gov/work/11/176334.pdf
4. D.O.E.; Order 458.1, Radiation Protection of the Public and the Environment; Feb. 2011
5. New Mexico Soil Screening Guidelines, 2017
6. Hall Environmental Lab, Analytical Water Quality Report, Dec. 17, 2007
7 & 8. Energy Laboratories, Analytical Water Quality Reports, Nov. 19, 2008 & Dec. 23, 2008.
9. Hall Environmental Lab, Analytical Water Quality Report, Sept. 16 2019
10. Personal and Requested Emails From NMED & EPA, 2018 – 2020
We are holding a zoom meeting with a presentation and Q&A that will be announced once we confirm participants, time and dates. Stay tuned.