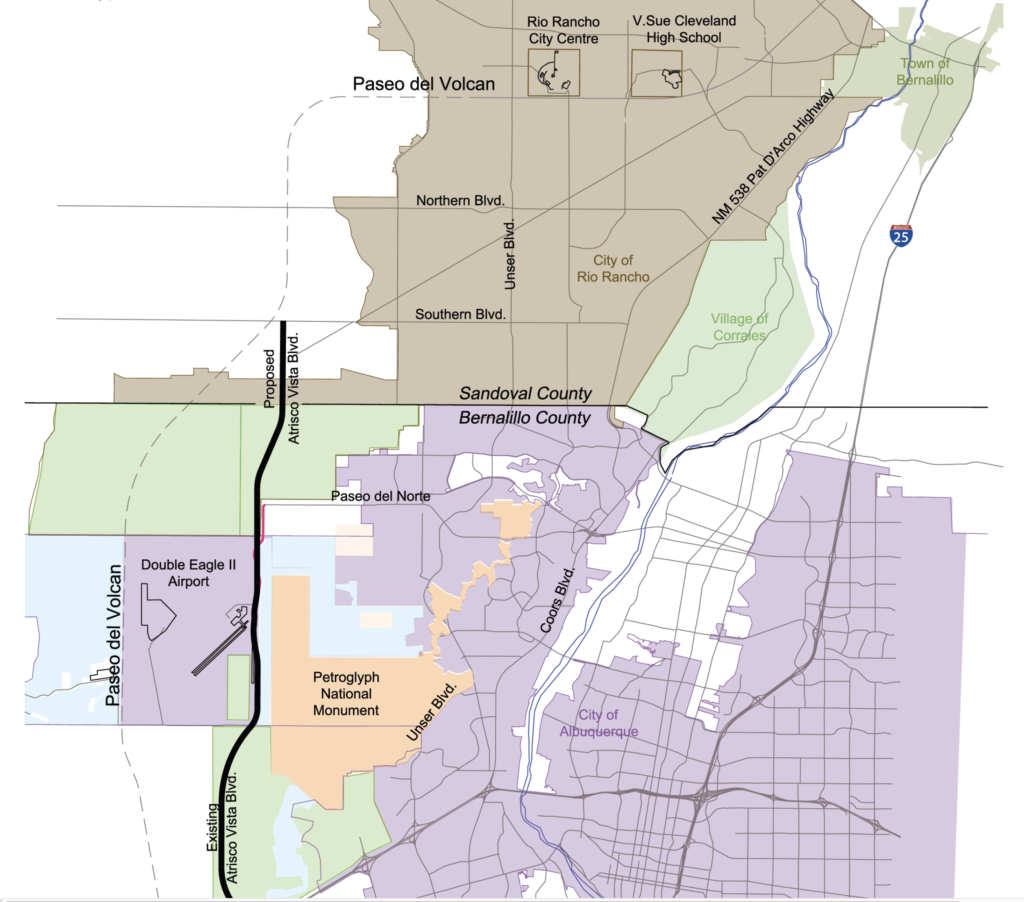 Right Of Way (ROW) property acquisitions currently happening. Land swaps are benign approved for AMREP by the City of Rio Rancho, the County of Sandoval.
Roadways slated for the ABQ Westside developers will allow fracking industry to set up road infrastructure for extraction industry and fracking waste stream while off-loading costs and impacts on to the public. Acquisitions for land buyouts are being pursued currently, 700 parcels are needed.
The link is the ATRISCO VISTA Planning document finalized in 2016, This is the year that Thrust Energy brought in Sandridge and started the long road of protecting water and air from heavy industry.
THREE ROADS IN PLANNING and Acquisition:
1. The Northwest loop is being pursued by developers who are actively searching for Federal grants to Complete the project. Not in the ABQ Metro jurisdiction. this puts the road right in line with Brine wells in Rio Puerco. And opens up to traffic. This is where Sandoval County taxpayers paid for the Road that are out there now as a precursor to development in 2005 by AMREP Now being pursued by JP Morgan Chase IMH-/MRH Court settlement on Brine water in AZ and NM. Being heard by Judge Eichwald in Sandoval County.
2.The Paseo de Vulcan is being pursued in two segments:
A. CoRR and Sandoval County Commission are swinging land swaps for AMREP to acquire land for RIGHT way they are moving for State funding and Bonds and taxes.
B. The Funding from i40 to Southern Blvd are still looking for funding but acquisition for land are being pursued. This road is in the ABQ metro planning. $120 M
3. Atrisco Vista Blvd is only $20 M alternative and it is on a fast track to open the westside to heavy industry fracking with 24/7 Truck traffic.
The Environmental Impact Assessment consideration was done in 2001 and a FONSI was issued. This should be revisited. The waste stream threatens water quality, air quality and health and Public safety.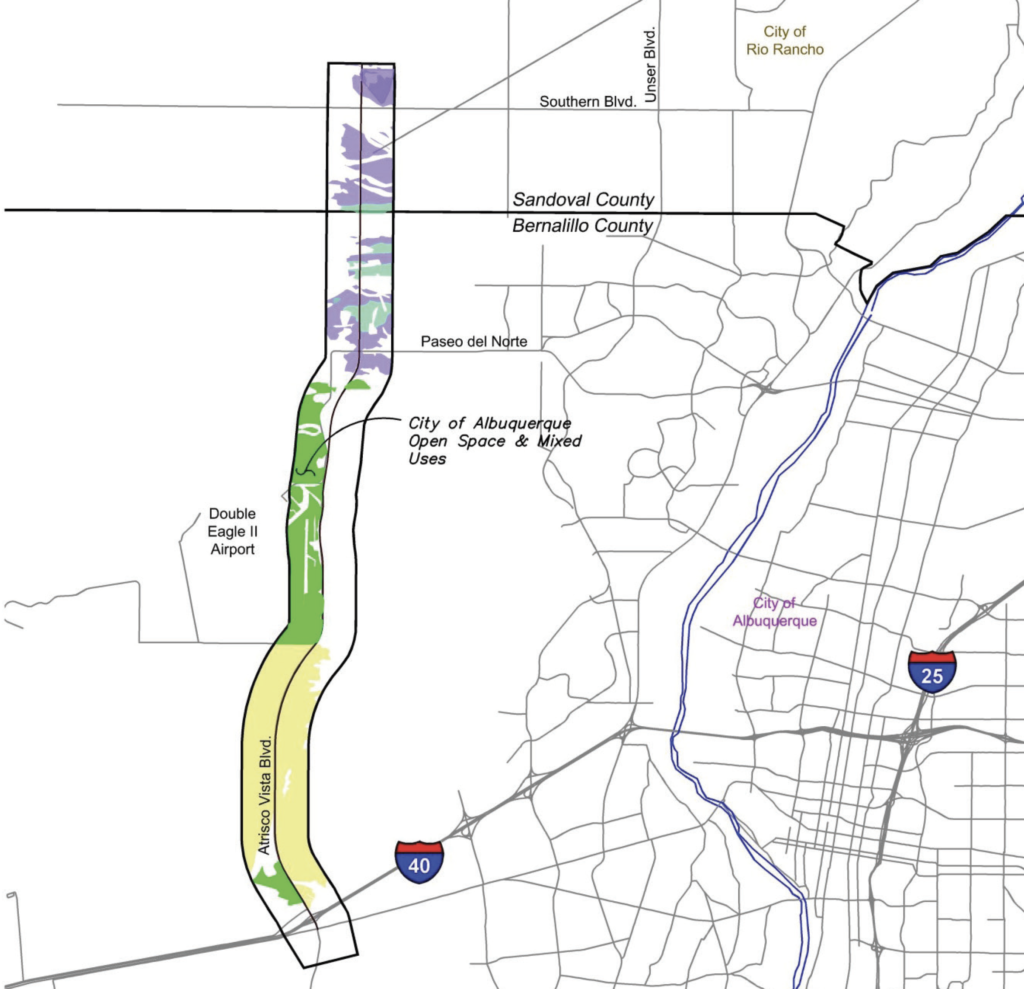 Map of zoning already aligned to heavy industry as fracking applications were coming in in 2016.
The maps below show the road expansion and the Zoning for industry set up on Atrisco Vista Blvd extension for 24/7 trucks and radioactive and potential toxic waste shipments.

This is along the routes are residential neighborhoods and newly built schools. There has been no study for baseline air quality monitoring for indoor and outdoor for Schools on the West mesa Rio Rancho from Mariposa to Santolina.
in all the scenarios put forward there are NO cost/benefit analysis or studies on infrastructure cost to, people communities, feeder roads and what those impacts would be.
This has nothing to do about economic development, any incentives or anything else. It is a blatant pursuit of the status quo, totally ignoring the climate crisis, water, air and public health impacts slated with coveting these types of industries all to the detriment of public health and safety.
Industry and politicos planned it this way!
Since 2014-6 the cost of these projects have risen and are not reflected in the final draft reports done at that time.
Eminent domain very possible. Map B the violet and dark violet indicates heavy industry, it also happens to be where shale deposits are supposed to be, according to NM Tech report for Thrust Energy and the County of Sandoval. it was part of $6m taxpayer funding that is yet to be accounted for, also the Sandoval County water fund paid for this report that benefited private profits for oil and gas.
Draft Comments due out any day from Bernalillo County Public works on Atrisco Vista Blvd. Draft Comments on paseo De Vulcan are coming out from MRCOG ABQ METRO in January.