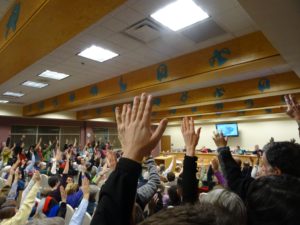 Please come early 4:30 pm Rally prior to the meeting, don't leave if you are turned away, stay, chant, let the commissioners hear your voices. We need volunteers to take names and contact info on people locked out, turned away, not allowed to speak or unable to speak, if you were signed up to speak but not called upon. We need a volunteer to hand out fliers for legal donations.
Photo: Hands up if you're against the fracking ordinance!
Showdown looms on oil and gas ordinance
By Kevin Robinson Avila ABQ Journal Article
ALBUQUERQUE, N.M. — The Sandoval County Commission could face a raucous crowd on Thursday when it votes on whether to adopt a new oil and gas ordinance.The ordinance would be the first such local law to regulate oil and gas activities on unincorporated land in the county, one of New Mexico's most-expansive jurisdictions covering 3,700 square miles with sparsely-populated rural areas and a bustling urban zone in Rio Rancho. Oil and gas companies have long operated in northwestern areas of the county that straddle the state's prolific San Juan Basin, but not in the county's more heavily-populated southeastern areas.
That all changed in 2015, when a now-bankrupt Oklahoma company, SandRidge Energy Inc., applied with the county to drill exploratory wells just west of the Rio Rancho Estate Community District several miles outside city limits. SandRidge requested a "special use" permit to proceed, but instead, the county decided to draw up its first-ever ordinance to regulate such activities.
That has since ballooned into a full-on fight with local community groups and environmental organizations, which say the proposed ordinance contains no meaningful protections against potential damage to water, air, land or noise pollution, nor does it provide adequate safety measures to protect people in case of accidents.
In effect, the ordinance would create "permissive use" zones for oil and gas activities, allowing companies to apply for permits, which would have to be processed within 10 days with no public notice or hearings necessary. Applicants, however, would have to show proof they've obtained all legal permits from the state's Oil Conservation Division, and from any federal entities with jurisdiction over industry activities, thus leaving state and federal officials in charge of environmental and other regulatory issues.
That's deliberate to defer such regulation to governing authorities who have expertise and who are already charged with monitoring the industry, said County Commission Chairman Don Chapman.
"We can't usurp the authority of other bodies that regulate the industry," he said. "…We want to strike a balance, but we can't satisfy everybody because some folks want us to restrict industry from doing things that other regulatory bodies deal with. We can't create our own Environmental Protection Agency here with a whole new level of bureaucracy."
The commission wants to avoid the type of litigation that Mora County in northern New Mexico faced after it banned all "fracking," or hydraulic fracturing, activities in 2013. In 2015, a federal court struck down Mora's ordinance, which was the first in the nation in which a county tried to ban fracking outright.
The Mora dispute was part of a nationwide movement by community and environmental groups to slow or stop development in places where the modern techniques of hydraulic fracturing and horizontal drilling had opened up new areas for industry activity. That led to restrictive ordinances in some places, rather than outright bans on activity.
That includes Santa Fe and San Miguel counties, both of which approved far stricter ordinances in recent years than what Sandoval County is considering.
Despite the federal ruling against Mora's ordinance, activists say local communities can still impose certain controls on things that state and federal authorities either don't regulate or don't enforce.
"The county does have certain rights to protect citizens, and it's their sworn duty to do so," said Elaine Cimino of Common Ground Rising, a grassroots group in the Rio Rancho Estate district.
Environmentalists are particularly concerned about water, said Miya King Flaherty, public lands fellow with the Sierra Club's Rio Grande Chapter.
"Oil and gas activities could threaten the underground aquifers that nearly 1 million people depend on in both Sandoval and Bernalillo counties," Flaherty said.
There's no known industry interest in Bernalillo County, which has no local ordinance. But it uses the same subsurface water resources as Sandoval, meaning operations there could affect both counties, Flaherty said.
The proposed ordinance does ban drilling within 750 feet from homes, schools, churches, and cemeteries. It also would require operators to use "best practices" in everything they do, including water protection, as defined by the American Petroleum Institute, said Daniel Fine, associate director of New Mexico Tech's Center for Energy Policy, which provided technical assistance to Sandoval County on its ordinance. Sandoval County would be the first in the nation to enforce the API's guidelines in a political jurisdiction, he said.
Common Ground Rising expects Thursday's hearing to be packed with an overflow crowd of local residents and environmental groups.
The five-member commission voted 4-1 in September to proceed to a final vote. But one ordinance supporter, Commissioner David Heil, plans to introduce two amendments on Thursday, including one to turn more-densely populated zones into "conditional use" areas that would require public notice and a hearing for a permit.
"I suspect that without amendments, we won't have the three votes needed to pass this ordinance," Heil said.