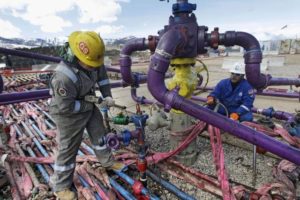 The Sandoval County P&Z Meeting on Tues. Aug. 28th starts at 4:30 pm.  This is a crucial meeting because, believe it or not, Mike Springfield, Director of the P&Z Department, Commissioner Jay Block, and forces not clearly apparent to the rest of us, are trying to fast track the 'Block Ordinance", the most recent incarnation of the Stoddard Ordinance (fall 2017), another very weak, industry-friendly ordinance. Follow this link;
All documents can be found on our website at http://commongroundrising.org/findings/ 
or at the Sandoval County Website
http://www.sandovalcountynm.gov/commission/sccmeetings/
Click on Agenda Item 8 A. of the August 14th P&Z meeting agenda, scroll down to the attachments and find the Block Ordinance along with other drafts, including the two Citizen's Working Group (CWG) drafts.
SandCO-OG draft proposals — Comparison of Draft proposals
Also, check out the county webpage …"Oil, Gas, and Water Matter/ Proposed Ordinance"
http://www.sandovalcountynm.gov/ogordinance/
Scroll down to 'Written Public Comments' under the 'Resources' heading, read through the public comments, the vast majority advocating for a strong ordinance.  Submit a comment of your own before the 8/28 meeting. Lets flood the county's written public comments page with support for the CWG Ordinance!
Submit Written Public Comment
Written public comment should be submitted via email to: PublicComment@sandovalcountynm.gov

If you do not have access to email and wish to submit a paper letter for your written comment, please mail to:

Sandoval County
Public Information Office
Attn: Oil, Gas & Water Public Comment
P.O. Box 40
Bernalillo, NM 87004

*Written public comment will be uploaded to this web page weekly on Fridays. All public comment submitted, in writing or presented verbally at a public meeting,  becomes public record and is subject to release per the New Mexico Inspection of Public Records Act.
One of the most egregious aspects of some of the ordinance drafts that have been submitted is the lack of public hearings throughout the county when an oil and gas company applies for a permit.  This level of permitting is called 'permissive land use', it is without P&Z Commission or County Commission oversight, without the public or Tribes' input, and without a public hearing.  The CWG Ordinance Team believes that no heavy industry, be it oil and gas, fracking, mining, geothermal, etc, should be granted a permit without a public hearing or Tribal input.
Sadly, even though the Sandoval County Commission (including Commissioner Jay Block) voted to charge the Citizen's Working Group (CWG) with drafting an ordinance, with 'maximum public input', it seems that Mr. Springfield and Commissioner Block, are only going through the motions, giving only a pretext of allowing citizens to be part of policy-making, pulling rank and fast-tracking yet another very weak, industry-friendly ordinance.  The Sandoval P&Z Department is not considering seriously the CWG ordinance drafts, of which there are two, both worthy of serious consideration.
The P&Z Commission Meeting on the 28th is a regular meeting and public comment should be allowed, check the agenda for the meeting by 72 hours prior, or by Friday, Aug. 24th 4:30 pm.  Please feel free to call or write to me for questions.
All documents can be found on our website at http://commongroundrising.org/findings/