County Planning and Zoning and County Commission prior to August 22 vote has:
• NO INTENTION OF TRIBAL CONSULTATIONS
• NO INTENTION OF CONSIDERATINON OF A CITIZENS' OIL AND GAS ORDINANCE
• NO INTENTION OF HONORING IPRA
• NO INTENTION OF RECTIFYING PUBLIC RECORD
Please come to the next meeting despite not being able to comment. P& Z will vote on Special Use Permits (SUP)/Standard Operating procedures (SOP) vs. Citizens' Oil and Gas Ordinance like the Santa Fe Ordinance
When: August 22, 2017 6 PM
Where: County Chambers 3rd Floor 1500 Idalia Rd Bernalillo NM 87004
The commission will not allow comments at this meeting and want to vote quickly on this issue. They will either hear it first on the agenda or they will make us sit there until they hear to other contentious issues. They apparently want to limit public input. The P&Z commission said they would consider an ordinance submitted by the citizens. The attached Santa Fe Ordinance can be used as the Sandoval model.
Please send this ordinance to every Planning and Zoning commissioner, as well as every County Commissioner, as the Ordinance of the peoples Choice. Contact information is listed below.
Santa Fe – OilGasOrdinance120208 SF  Please send to County Commissioner and P& Z Plesae do this from Now until August 21st 2017  the Santa Fe Ordinance is on of the best ordinances in the Country. There is no current drilling in Santa Fe County
The SMO San Miguel Ordinance Does not Give all theProtections but does offer some good ones and some say is more comprehensive. There is drilling in San Miguel County.
What You Can Do Please send the following email :
We, the residents of the Sandoval County, request adopting a Sandoval County Oil and Gas Ordinance based on the Santa Fe and San Miguel Ordinances. Please use the language in these ordinances when drafting language for the Sandoval County ordinance that you will send to the Sandoval County Commission for approval.
Attach Copy of Ordinance ( see above link)   Send to:
jarango@sandovalcountynm.gov
jmaduena@sandovalcountynm.gov
kbrown@sandovalcountynm.gov
dstoddard@sandovalcountynm.gov
bgreene@sandovalcountynm.gov
ahererra@sandovalcountynm.gov
dtrujillo@sandovalcountynm.gov
mspringfield@sandovalcountynm.gov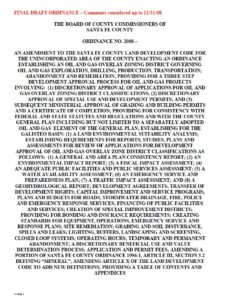 As you can see there is a dramatic difference in the purpose of each ordinance
One offered protections the other does not